Finally! After 2 years of postponements and virtuality, we have been able to meet face to face, be it in Berlin or in Stuttgart at a Battery event. Thanks for the short meeting and if we haven't been able to follow up yet, please don't hesitate to contact us directly.
What binds us all is the search for a better battery. Safety, power, fast charging, long cycle life, etc. Powercapacitors combine the benefits of supercapacitors with the energy of lithium-ion in safety, simplicity, and robustness. Powercapacitors are not vaporware. They are in production for 2 years and are already being applied from IoT to the most demanding applications. See two examples below.
Meanwhile, visit the website www.kurt.energy or have a look at a short presentation.
Most people consider batteries as energy storage devices. The more energy they contain, the better. In a car this translates into range. But range isn't everything. A battery becomes useful when the energy can be charged and discharged rapidly. Often energy and power requirements are not compatible with each other. The more energy, the less power, and vice versa. We examine this further using 3 real-world applications, some rather extreme but they highlight the issues.
To read the rest of the article, download it here: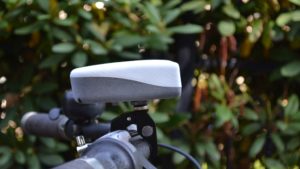 Are hybrid powercapacitors only used in high power traction applications? Of course not. One of the applications at the other end of the power spectrum is IoT (Internet of Things).
SODAQ has recently passed the development stage and is bringing its AIR air quality monitor to the market using a crowdfunding campaign.  After many evaluations, they selected a powercapacitor as its energy source.
Register here: kurt.energy request and contact page and receive an invitation code.
For more information, visit the Battery Builder page.